We aren't too far off from our wedding. Actually, two months and a day to be exact!!!!
I have some pictures of things that we've decided on mostly up to now.
We have an appointment this Saturday morning for cake tasting and we both have a pretty good idea about how we want it to look.
Josh drew out my mom's backyard yesterday so we can figure out how we want to decorate and set up an aisle for me to walk down.
I'm all giddy and excited.
I'm nervous about saying my vows in front of people but I'll just focus on him and I should be ok. I know I'll be a crying mess.....
Here are some of the plans already in action!
:)

We ordered Joshua's ring last week. We ordered the same band that he proposed to me with and had the same thing engraved on the inside....so our bands will match :)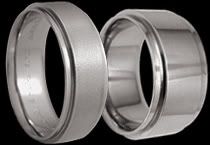 We both have the skinnier band. I thought he should get the thicker one but he didn't want it....he's going to get his finger tattooed after the wedding with XIII for our wedding day. I want to get a diamond tattooed on my finger as well.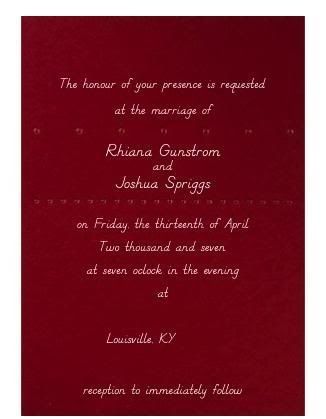 This is also sort of what our invitations look like...that same paper but with platinum ink and different font. I forgot to get a screen shot of it when we did it.


And..........this is the gown that I found online. One of the girls in a wedding community I'm in had it on and linked the people she bought it from! I just fell in love. I always knew that I wanted a red dress and this was just so gorgeous.
I'm going to have them do it without the beading on the top part though.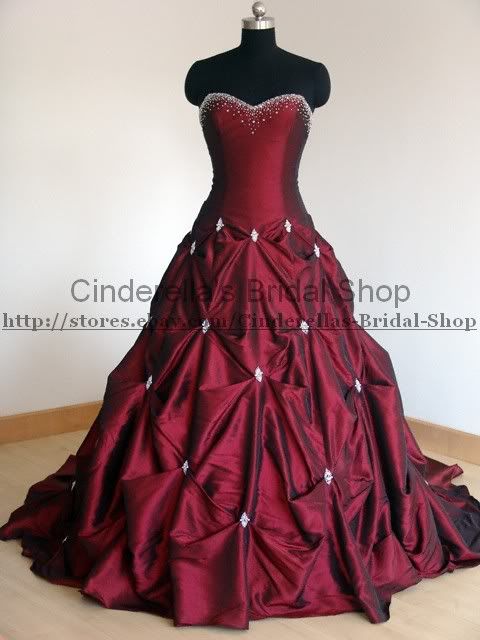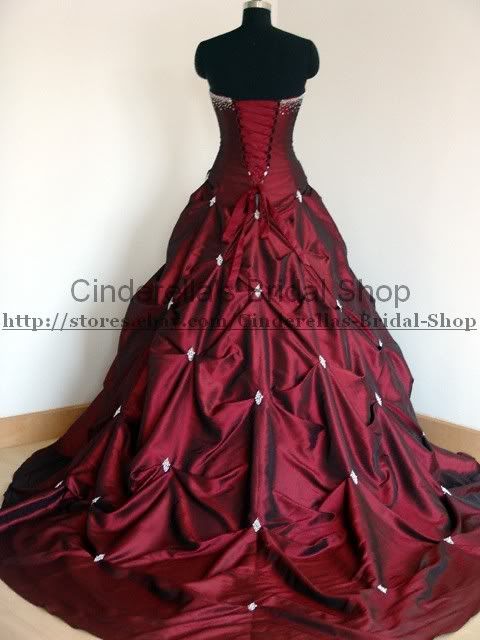 Seeing all this together gets me real excited. I hope the dress makers get back to me soon.
Josh has been on the hunt for this box thing for a keg that hides it and makes it so you can use a beer tap like at a bar.....so it makes it a little less tacky. If he can't find one I don't really care if we have to just have people pump a keg. It is our friends and family after all.
All of this is going to be at my mom's house and her backyard.
I just hope that the weather cooperates.
Josh was going to make an arbor at work for us to stand in front of. We couldn't decide if we wanted a traditional arbor or have him make one the shape like the fireplace goes to in Beetlejuice....we both thought that would be neat and different.
He'll wear all black with a red tie most likely.

After realizing that soon enough I'll be losing my last name I decided that my last name will be a new tattoo on me somewhere. I'm not sure where....or if I'll incorporate it into my halfsleeve or not.