So I had my appointment this afternoon. We got another ultrasound. They both look great!
They are weighing a bit different now, that is something that they want to monitor. Callum is weighing 1lb2oz and Taylor is weighing 1lb7oz.
I was just relieved to see that they are both alive and growing and doing well.
I've now lost seven pounds total since last Monday. I wasn't too happy about that. But, they told me to just keep up my fluid intake and the babies are fine.
I was actually able to eat some ritz crackers this afternoon.
The doctor measured my tummy and I am at 24 weeks but measuring at 32 weeks! WOW. So I am measuring like if I had a singleton I would almost be done!
They gave us another CD full of pictures. I asked the tech to check and make sure that they are still boys! haha. You never know, they could have made a mistake. There was no mistaking it this time!
They are definitley boys! They were laying right on top of each other this time. It was so cute. Taylor was basically using Callum's face as a pillow!
You could see that their ribs are starting to grow in strong and is starting to shade the heart.
They were crazy active like usual and it took her a while to get all the measurements that they wanted.
My cervix is measuring at 5cm and they were pleased with that.
The doc checked out my throat again and said it doesn't look abcessed and that the antibiotics are doing their job and I am just going to have to wait it out while it runs its course.
Ok, On to some sonogram pictures!

a beautiful profile



a baby foot



two baby feet! they look just like their daddy's feet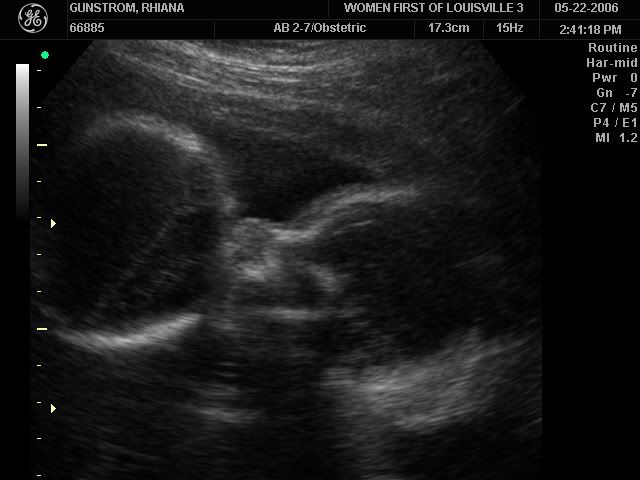 someone laying on someone's face



an arm